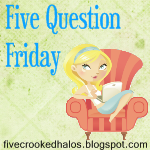 1. During the summer I don't wear socks unless I decide to wear tennis shoes. Then I wear the little ankle socks that don't show over the shoe. During the summer I wear crew socks normally, simply because I love all the decorative, holiday socks.
2. We debated each and every name. K and I both had strong opinions on them. We both ended up loving what we chose for all three girls.
3. My favorite type of weather is when the temps are in the high 70s to low 80s. There has to be a slight breeze and the sun is shining. That for me is happy weather and I will spend as much time outside as possible.
4. Probably around 8 or so. I have gotten so used to waking up with the kiddos are 7:00 that I tend to wake up then even if they don't wake me up. To be honest though, I could sleep later and nap every day.
5. We don't have our plots yet.