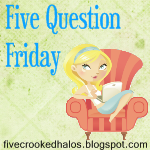 1. Have you ever had roommates?
2. How many names do you/your children have? (i.e. Prince Charming William Phillip Arthur Louis John Jacob Jingleheimer-Schmidt)
3. Did you watch the Royal Wedding?
4. What is the messiest room in your house?
5. What is your ideal mothers day?
1. Other than the four that I live with now, no.
I joined a sorority in college but never lived in house.
Basically I went from my parent's house to living with my hubby.
2. My kids all have two middle names.
The first middle name is a name that K and I liked and the second is a family name.
Yes, it can be confusing but we love it.
3. I told myself that I wasn't going to.
That I could resist.
But then I saw one of the shows that TLC did for the ENTIRE WEEK leading up to the wedding and I got sucked in.
Like 100%
I didn't see the wedding live, but I watched the replays on the news channels and melted.
It was so romantic, sigh.
4. Right now, it's the living room.
Mama is sick, that means that during the day pretty much nothing gets done.
It's driving me crazy and I have been picking it up and vacuuming like crazy, but the living room is a mess.
5. My ideal mother's day is that K gets up with the girls and tends to all of their morning needs.
Meanwhile, I lay there in bed.
Even if not sleeping, I just lay there.
Oh, and if I could get a good nap in that would be divine too.