Yippee! It's Friday, it's Friday! Yay!
Since it is Friday that means that it is time for 5 ? Friday!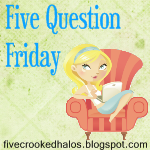 1. If you had to choose, how would you prefer to choose to spend money...on landscaping or a pool?
2. (Scott likes to get things stirred up...) Death penalty,
yay
or nay?
3.
What's the worst thing your kid has gotten into when you turned your back/blogged/showered/blinked?
4.
How often do you REALLY go to the dentist?
5. What is your favorite animal (doesn't have to be a pet-type animal)?
1. Landscaping. Having a pool makes me nervous and I really don't think that my hubby or I would really want to invest the time in cleaning it. I do love swimming though...
2. I would say in general, nay. But, I just don't know...I actually feel really conflicted about it. Ugh, I can't get my thoughts out properly, lets just say nay but sometimes conflicted.
3. Um, well, my three year old recently swallowed a rock, she also took a bite out of a dishwasher soap pack. How about coloring on the walls or dumping food all over the floor. Yikes, mama can't even go to the restroom without fear of them getting into something.
4. I take the kids every 6 months, no questions. Me, well, I don't go as regularly, sigh.
5. My favorite animal hands down are elephants. I just think they are so pretty and sweet.