How in the world is it Friday already?
Seriously, this has been one of those weird weeks where it can't possibly be Friday yet I woke up this morning thinking it was Saturday.
Yeah, it doesn't make an sense to me either.
Anyways...Five Question Friday.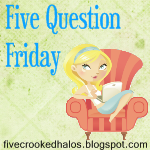 1. W

hat is your favorite summer time activity?
2.
Do you have one laundry soap you stick to, or do you buy whatever's on sale?
3.
What is your favorite dinner to make in the summer?
4.
Do you have any talents?
5. If you could instantly be an expert in something, what would it be? Why?
1. My favorite summer time activity...can I say say sleeping in? Seriously, I love that we don't have a schedule during the summer. If not sleeping then, waking up and heading straight to the park or having picnics.
2. I usually just buy whatever is on sale and smells good.
3. I love it when hubby grills. Then we have grilled zucchini, a salad and maybe some grilled asparagus. Yum, now I am hungry.
4. Not that I can really think of. Um, reading. I am a really fast reader and LOVE reading. Is there such a thing as a reading talent? We can just pretend, okay? Thanks!
5. I would love to learn how to sew and actually be able to make things. I think that would be a pretty awesome skill to be an expert in...or maybe cooking...or gardening...really the list is endless.