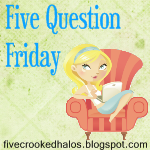 1. Have you ever had surgery?
2. Ever ride in an ambulance?
3. How are you in a medical emergency? Panicked? Calm?
4. Do you have a garden? Flowers or veggies?
5. When did you move out of your parents house?
1. Yes, more than I care to have had. I had my tonsils and adenoids out when I was a senior in high school. Then I had surgery on my knee when I was in college. Next was a D&C. I also had hysterectomy. My hope is to not need surgery again EVER or at least for quite a while.
2. I have never ridden in an ambulance, I hope I never do. *shuddering*
3. I think that I panic at first, then a calm comes over me. I seem to keep it together until the storm has passed and then cry.
4. I don't have a garden, I have a brown thumb. I just cannot keep plants alive, sigh, I wish that I could. Plus, it gets so HOT & HUMID here that I avoid going outside at all costs. Sigh, that does not bode well for a garden.
5. I officially moved out after K and I got married.