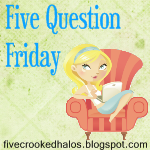 1. What is your go to comfort food or sweet?
2. What is the most romantic place you've ever been to?
3. What is your favorite thing about fall/Halloween?
4. How would you spend 24 hours alone?
5.
Does you husband bring you flowers? Are you the bring-me-flowers type of girl?
1. Anything crunchy, salty and with cheese would be great.
2. Our honeymoon was pretty romantic. We went on a cruise. It was just a fun, simple time together. We also got to do some exploring, it was such a nice time.
3. I have lots of favorites: the crisp air, wearing jeans and sweaters, warm coffee, the bright colors.
4. I don't think I would get out of bed. I would read, sleep and watch movies.
5. We don't do flowers simply because one of our cats eats them and then throws them up. Yuck. I do love flowers though.