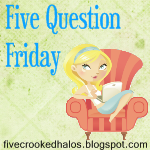 1.
What's the last thing you spent too much money on?
2.
What celeb chef would you want to make you dinner?
3. W
here do you hide things when visitors pop over or do you let them see the real deal?
4. W
ho is your oldest living family member?
5.
What is your favorite DQ treat and/or Sonic drink combo (ie: cherry vanilla Dr. Pepper)?
1. Hmmmm, I don't know. I don't usually spend much money. I did spend more than I usually would buying Abby a DARLING pair of boots. They are purple and furry, too cute for words!
2. Giada, her food always looks so good!
3. It depends on who is coming over. If I need to ditch some stuff I throw it on my bed. Normally I do a quick pick up though and put *most* things away.
4. Probably my Uncle Bill, he's my Dad's oldest brother.
5. Normally I get a regular Coke from Sonic, but if I get a combo I get a cherry Coke. Yum!