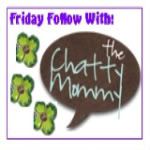 Head on over to The Chatty Mommy and join me for her Friday Follow.
In other news, I have to tackle my laundry today.
If I don't I am afraid it will grow legs and attack the city.
I also slept horribly last night, I hope to be in bed early.
Ainsley fell out of her bed last night, she was so tired she didn't even cry.
It freaked her mama out though.
Have a great Friday!