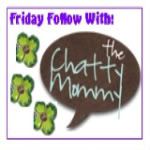 There are some fun blogs over there, check.it.out.

In other random news, it snowed again.
I feel like I have been writing about the weather a lot.
I apologize for this, but this is kind of what is happening right now.
Sigh, I hope to stop talking about this soon.
While Abby was talking a little snooze Ainsley and I headed out to do some shoveling.
Well, I shoveled while she ran around and threw snow balls at me.
After throwing the snowball, she would squeal and run away as fast as her little legs would take her with a maniacal little chuckle trailing behind.
She even tried to do a snow angel which during previous snows was not going to happen with her.
She is slightly timid and does not enjoy new things so the fact that she was willing to give it a shot earned her a high five and a woo hoo!
I have pictures to share, but am out of photo storage space, so I will put them up later after we purchase more storage. Blah!