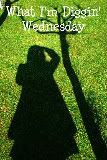 1. K is coming home this afternoon!!! I didn't write about it before because I'm paranoid like that. He left last Thursday at 6:15 in the morning. I miss him terribly. The girls miss him terribly. We are so ready to have him home. It has been fun talking with him on the phone and texting, but there is just nothing to spending time together.
2. The gorgeous weather. It is nice and crisp and cool in the morning then warms up in the afternoon. I'm talking an almost 40 degree difference on some days. There are a few leaves changing colors but it could easily pass for Spring right now.
3. Adison and Ainsley's birthdays are about 2 1/2 to 3 weeks away. They are both REALLY excited!!!
4. Friends: I love the encouragement and love.
Head on over to Staying Home and Staying Sane to link up!