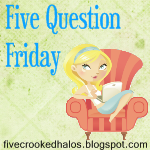 1. If you had a weekly newspaper column, what would you name it?

2. Who is your mentor/inspiration?

3. What is your wake up beverage of choice?

4. Would you wear your mom's clothes?
5. When you were a kid, did you put posters on your wall? If so, what were they of?
1. This is a tough one. Um, The House of Cupcakes or Surviving and Thriving with Coffee and Cupcakes...I don't know what. Sorry
2. I have a lot, my mom, my mother in law, my friends. My inspiration though would be my kids, they are constantly inspiring me to better my self.
3. Coffee, coffee, coffee and coffee. Yes, I love it. Coffee with some milk and vanilla creamer is the breakfast of champions, err, well...this mama.
4. Yes I would, my mom dresses really well.
5. I did have posters on my wall. The ones that I remember the most were my New Kids on the Block posters. I even had a large one of Jordan, I had the biggest crush on him.