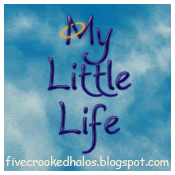 1. Have you ever forgotten your child in a store or at school?
I haven't forgotten them, but I am totally that mother at the store or wherever constantly telling her kids to hold on to the cart.
I have a fear though of forgetting that school lets out early and my oldest waiting for me.
I'm kind of paranoid about that actually.
2. Where did you go on your very first date? (Like...first first, not first with your spouse or current significant other!)
My first real date other than a school dance was dinner and a movie.
I have no idea what movie we saw, I think we ate at Olive Garden.
Wow, that was a really long time ago!
We can pretend that it wasn't THAT long ago, right?
3. What's your "silly" fear? (We're not talking water and heights.)
I am terrified of sharks.
Absolutely, mind numbing, paralyzing afraid.
It makes no sense, I live in a land-locked state.
But, alas, I am terrified of sharks.
4. Confrontation: do you cause it, deal with is as it comes, or run far far away?
I run away from it as far and as quickly as possible.
When the unfortunate occurs and I have to deal with it I feel so sick.
I start sweating and feel like I am going to vomit.
I do not confront unless I have to.
5. Wood floors or carpet?
We have wood floors with rugs.
I really like it.
It helps keep things clean and forces me to vacuum more than I otherwise would.
I like the idea of carpet, but with asthmatics, 3 kids and 3 cats, hardwood works best.
Plus, it was already in our house when we bought it.
Score!