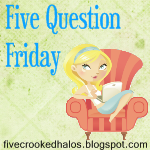 1. If you had $1,000 to donate to a charity, which would you choose?
I would choose Ronald McDonald House. I just feel like they do so much and I would love to give something to them.
2. Snow days: Do you welcome them happily or are they a pain in your butt?
I LOVE snow days! It just seems like a bonus day. We can do whatever we like, hang out in our pjs all day, play in the snow, watch movies and eat popcorn. It is just a fun time.
3. What talent did you wish you had and why?
I wish I were more crafty and creative.
4. Are you a news, politics or celebrity gossip junkie?
Yes, yes and yes. I love watching the news and politics. I don't normally discuss my political leanings on my blog, but I LOVE politics. I also am a celebrity gossip junkie, shhh don't tell anyone though!
5. What is your favorite "cocktail"? (Are you a beer person, a kiddie cocktail junkie, or perhaps your more the "Cosmo" kind?! Anything flies...doesn't hafta be alcoholic!)
How about a Coke/Pepsi on ice. That is my fav!