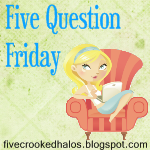 1. Where did you meet your spouse and did you instantly know it was love?
Hubs and I met at a bar/dance club. He was a DJ and I was a silly sorority girl.
You should have seen the looks on the other couple's faces when we shared that at marriage prep classes.
It was not love at first, I would classify it more as "Dislike at First Sight."
Hubs had introduced a couple (they are currently married) and they kept getting us together, eventually we clicked and then love came pretty quickly.
2. What is your favorite room in your house?
My bedroom because my bed is divine.
When we had to get a new bed, K and I splurged on a nicer one because we figured that you spend so much time sleeping that you might as well be comfortable.
When in doubt and if possible, buy yourself a nice bed.
3. Can you wiggle your ears?
I am double jointed in my elbows though, can that count???
4. What is your evening ritual?
After getting the kiddos to bed, if I have any energy left I do a quick clean up of the house. Then spend some time with hubs, read some blogs, have a snack, maybe watch a movie, check out some more blogs, brush teeth, snooze.
5. How many hours of sleep do you need to function?
To function...at least 4, I am talking bare bones functioning.
But to actually be a happy, well-adjusted, helpful, patient person, at least 7 if not more.
Preferably 10, but I am a mother to 3, that hasn't happened in well...8 years.