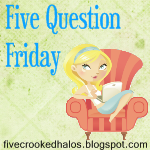 1.
What giveaway would you like to do on your blog?
2.
If you had to choose between natural artistic ability and natural athletic ability, which would it be?
3.
Do you ditch the coat the minute it becomes "spring" or are you a holdout for more cool temps?
4.
What would you do if you won the mega millions lotto of 1/2 billion dollars?
5.
You are at a hotel by yourself...what do you do?
1. I have no idea, maybe something coffee related. I sooooo love coffee, otherwise I am open to ideas.
2. At this stage in the game I would love some good artistic ability. I have always wanted to be extra crafty and creative.
3. I'm a holdout, I am not a fan of being cold. I do put all of our cold weather coats away and keep jackets and fleece out.
4. Pay off debt, I hate having it loom over my head. I would want to donate to some charities, put some aside for college for the girls, save save save.
5. Sleep, stay in bed all. day. long. Read, watch television, lay there all day.