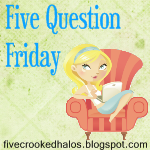 1.
Where is your favorite vacation spot and why?
2.
What is your biggest guilty pleasure?
3.
What is your favorite fashion trend right now? Or, in the past?
4. W
hat are your spring break plans?
5.
What baby names do you hate?
1. We went to Couer d' Alene, ID seven or so years ago. We went hiking in the mountains everyday and spent so much time outside. It was such a picturesque place to be.
2. My coffee creamer, I love it. I enjoy it every morning. I've even taking to getting a few different kinds that way I can choose what to savor that morning...or afternoon...or evening.
3. I would say that I am loving all of the beautiful colors and patterns that are out now. I love that there are so many different looks and options to choose from.
4. Sleep in, relax and enjoy a change of pace.
5. Baby names that I don't like are the names that kids won't be taken seriously with as adults. When K and I named our girls I wanted them to have names that they could be CEO's or President of the United States with. Naming someone is a huge responsibility.